Jurassic World: Dominion Dominates Fandom Wikis - The Loop
Play Sound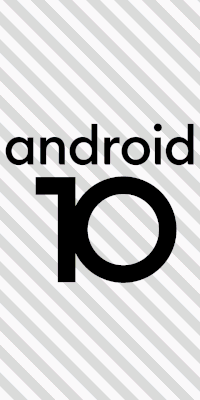 Android is a mobile operating system designed for touchscreen smartphones and tablets, developed by a consortium of developers known as the Open Handset Alliance and commercially sponsored by Google. It is also available for cars as Android Auto, televisions as Android TV, and smartwatches as Wear OS. Android uses touch inputs that loosely correspond to real-world actions such as swiping, tapping and pinching to manipulate on-screen objects, as well as a virtual keyboard, The unveiling of the Android distribution on November 5, 2007 was announced with the founding of the Open Handset Alliance, a consortium of 84 hardware, software, and telecommunication companies devoted to advancing open standards for mobile devices. Google released most of the Android code under the Apache License, a free software license. The Android Open Source Project (AOSP) is tasked with the maintenance and further development of Android.
Android consists of a kernel based on the Linux kernel, with middleware, libraries and APIs written in C and application software running on an application framework which includes Java-compatible libraries based on Apache Harmony. Android uses the Dalvik virtual machine with just-in-time compilation to run Dalvik dex-code (Dalvik Executable), which is usually translated from Java bytecode.
Android has a large community of developers writing applications ("apps") that extend the functionality of the devices. most Developers generally write apps in either Java or Kotlin. Apps can be downloaded from third-party sites or through online stores such as the Google Play Store, the app store run by Google. As of July 2013 the Google Play store has had over 1 million Android apps published, and over 50 billion apps downloaded.[1] Android was listed as the best-selling smartphone platform worldwide in Q4 2010 by Canalys with over 200 million Android devices in use by November 2011, across the several versions of the operating system.
Android History
[
]
Android Inc
[
]
Android, Inc. was founded in Palo Alto, California, United States in October 2003 by Andy Rubin (co-founder of Danger), Rich Miner (co-founder of Wildfire Communications, Inc.), Nick Sears (once VP at T-Mobile), and Chris White (headed design and interface development at WebTV) to develop, in Rubin's words "...smarter mobile devices that are more aware of its owner's location and preferences".[2] Despite the obvious past accomplishments of the founders and early employees, Android Inc. operated secretly, revealing only that it was working on software for mobile phones.[2] That same year, Rubin ran out of money. Steve Perlman brought him $10,000 in cash in an envelope and refused a stake in the company.
Acquisition by Google
[
]
Google acquired Android Inc. in August 2005; key employees of Android Inc., including Rubin, Miner and White, stayed at the company after the acquisition.[2] Not much was known about Android Inc. at the time of the acquisition, but many assumed that Google was planning to enter the mobile phone market with this move.
Post-acquisition development
[
]
At Google, the team led by Rubin developed a mobile device platform powered by the Linux kernel. Google marketed the platform to handset makers and carriers on the promise of providing a flexible, upgradable system. Google had lined up a series of hardware component and software partners and signaled to carriers that it was open to various degrees of cooperation on their part.
Speculation about Google's intention to enter the mobile communications market continued to build through December 2006. Reports from the BB and The Wall Street Journal noted that Google wanted its search and applications on mobile phones and it was working hard to deliver that. Print and online media outlets soon reported rumors that Google was developing a Google-branded handset. Some speculated that as Google was defining technical specifications, it was showing prototypes to cell phone manufacturers and network operators. In September 2007, InformationWeek covered an Evalueserve study reporting that Google had filed several patent applications in the area of mobile telephony.
Open Handset Alliance
[
]
On November 5, 2007, the Open Handset Alliance, including Google, device manufacturers such as HTC, Sony and Samsung, wireless carriers such as Sprint Nextel and T-Mobile, and chipset makers such as Qualcomm and Texas Instruments, unveiled itself, with a goal to develop open standards for mobile devices.[3] On the same day, the Open Handset Alliance also unveiled their first product, Android, a mobile device platform built on the Linux kernel version 2.
In 2010, Google launched its Nexus series of devices – a line of smartphones and tablets running the Android operating system, and built by manufacturing partners. HTC collaborated with Google to release the first Nexus smartphone, the Nexus One. Google has since updated the series with newer devices, such as the Nexus 5 phone (made by LG) and the Nexus 7 tablet (made by Asus). Google releases the Nexus phones and tablets to act as their flagship Android devices, demonstrating Android's latest software and hardware features.
Updates
[
]
Since 2008, Android has seen numerous updates which have incrementally improved the operating system, adding new features and fixing bugs in previous releases. Each major release is named in alphabetical order after a dessert or sugary treat; for example, version 1.5 Cupcake was followed by 1.6 Doughnut. Version 4.44 KitKat appeared as a security-only update; it was released on June 19, 2014, shortly after 4.43 was released.[4] As of November 2014, the newest version of the Android operating system, Android 5.0 Lollipop, is available for selected devices.
Design
[
]
Linux
[
]
Android's kernel is a fork of the Linux kernel and has further architecture changes by Google outside the typical Linux kernel development cycle. Android does not have a native X Window System, nor does it support the full set of standard GNU libraries, and this makes it difficult to port existing Linux applications or libraries to Android. Certain features that Google contributed back to the kernel, notably a power management feature called wakelocks, were rejected by mainline kernel developers, partly because kernel maintainers felt that Google did not show any intent to maintain their own code. Even though Google announced in April 2010 that they would hire two employees to work with the Linux kernel community, Greg Kroah-Hartman, the current Linux kernel maintainer for the stable branch, said in December 2010 that he was concerned that Google was no longer trying to get their code changes included in mainstream Linux. Some Google Android developers hinted that "the Android team was getting fed up with the process", because they were a small team and had more urgent work to do on Android.
However, in September 2010 Linux kernel developer Rafael J. Wysocki added a patch that improved the mainline Linux wakeup events framework. He said that Android device drivers that use wakelocks can now be easily merged into mainline Linux, but that Android's opportunistic suspend features should not be included in the mainline kernel. In 2011 Linus Torvalds said that "eventually Android and Linux would come back to a common kernel, but it will probably not be for four to five years."
Features
[
]
Interface
[
]
Android's default user interface is based on direct manipulation, using touch inputs, that loosely correspond to real-world actions, like swiping, tapping, pinching, and reverse pinching to manipulate on-screen objects, and a virtual keyboard. The response to user input is designed to be immediate and provides a fluid touch interface, often using the vibration capabilities of the device to provide haptic feedback to the user. Internal hardware such as accelerometers, gyroscopes and proximity sensors are used by some applications to respond to additional user actions, for example adjusting the screen from portrait to landscape depending on how the device is oriented, or allowing the user to steer a vehicle in a racing game by rotating the device, simulating control of a steering wheel.
Android devices boot to the homescreen, the primary navigation and information point on the device, which is similar to the desktop found on PCs. Android homescreens are typically made up of app icons and widgets; app icons launch the associated app, whereas widgets display live, auto-updating content such as the weather forecast, the user's email inbox, or a news ticker directly on the homescreen. A homescreen may be made up of several pages that the user can swipe back and forth between, though Android's homescreen interface is heavily customisable, allowing the user to adjust the look and feel of the device to their tastes. Third-party apps (called launchers) can extensively re-theme the homescreen, and even mimic the look of other operating systems, such as Windows Phone. Most manufacturers, and some wireless carriers, customise the look and feel of their Android devices to differentiate themselves from their competitors.
Present along the top of the screen is a status bar, showing information about the device and its connectivity. This status bar can be "pulled" down to reveal a notification screen where apps display important information or updates, such as a newly received email or SMS text, in a way that does not immediately interrupt or inconvenience the user. Notifications are persistent until read (by tapping, which opens the relevant app) or dismissed by sliding it off the screen. Beginning on Android 4.1, "expanded notifications" can display expanded details or additional functionality; for instance, a music player can display playback controls, and a "missed call" notification provides buttons for calling back or sending the caller an SMS message.
Applications
[
]
Applications ("apps"), that extend the functionality of devices, Apps are primarily written in Java and Kotlin and primarily developed using the Android software development kit (SDK). The SDK includes a comprehensive set of development tools, including a debugger, software libraries, a handset emulator based on QEMU, documentation, sample code, and tutorials. The officially supported integrated development environment (IDE) is Eclipse using the Android Development Tools (ADT) plugin. Other development tools are available, including a Native Development Kit for applications or extensions in C or C++, Google App Inventor, a visual environment for novice programmers, and various cross platform mobile web applications frameworks. In January 2014, Google unveiled an Apache Cordova–based framework for porting Chrome HTML 5 applications to Android, wrapped in a native application shell.
Android has a growing selection of third-party applications, which can be acquired by users by downloading and installing the application's APK file, or by downloading them using an application store program that allows users to install, update, and remove applications from their devices. Google Play Store is the primary application store installed on Android devices that comply with Google's compatibility requirements and license the Google Mobile Services software. Google Play Store allows users to browse, download and update applications published by Google and third-party developers; As of July 2013, there are more than one million applications available for Android in Play Store. As of May 2013, 48 billion applications have been installed from the Google Play Store and in July 2013, 50 billion applications were installed. Some carriers offer direct carrier billing for Google Play application purchases, where the cost of the application is added to the user's monthly bill.
Due to the open nature of Android, a number of third-party application marketplace also exist for Android, either to provide a substitute for devices that are not allowed to ship with Google Play Store, provide applications that cannot be offered on Google Play Store due to policy violations, or for other reasons. Examples of these third-party stores have included the Amazon Appstore, GetJar, and SlideMe. F-Droid, another alternative marketplace, seeks to only provide applications that are distributed under free and open source licenses.
Memory management
[
]
Since Android devices are usually battery-powered, Android is designed to manage memory (RAM) to keep power consumption at a minimum, in contrast to desktop operating systems which generally assume they are connected to unlimited mains electricity. When an Android application is no longer in use, the system will automatically suspend it in memory; while the application is still technically "open", suspended applications consume no resources (for example, battery power or processing power) and sit idly in the background until needed again. This brings a dual benefit by increasing the general responsiveness of Android devices, since applications do not need to be closed and reopened from scratch each time, and by ensuring that background applications do not consume power needlessly.
Android manages the applications stored in memory automatically: when memory is low, the system will begin killing applications and processes that have been inactive for a while, in reverse order since they were last used (oldest first). This process is designed to be invisible to the user, so that users do not need to manage memory or the killing of applications themselves.
Privacy and Security
[
]
Privacy
[
]
Note: Part of the Privacy issues mentioned below can be mitigated by de-googing your Android device[5]

Android smartphones have the ability to report the location of Wi-Fi access points, encountered as phone users move around, to build vast databases containing the physical locations of hundreds of millions of such access points. These databases form electronic maps to locate smartphones, allowing them to run apps like Foursquare, Latitude, Places, and to deliver location-based ads. One design issue is that average users cannot monitor how applications access and use private and sensitive data (e.g. location and hardware ID numbers). Even during installation, permission checks do not often indicate to the user how critical services and data will be used or misused. Third party monitoring software such as TaintDroid, an academic research-funded project, can identify personal information sent from applications to remote servers.
Application security
[
]
Android applications run in a sandbox, an isolated area of the operating system that does not have access to the rest of the system's resources, unless access permissions are granted by the user when the application is installed. Before installing an application, Android Market displays all required permissions. A game may need to enable vibration, for example, but should not need to read messages or access the phonebook. After reviewing these permissions, the user can decide whether to install the application. Some Android malware incidents have been reported involving rogue applications on Android Market. In August 2010, Kaspersky Lab reported detection of the first malicious program for Android, named Trojan-SMS.AndroidOS.FakePlayer.a, an SMS trojan which had already infected a number of devices. In some cases applications which contained Trojans were hidden in pirated versions of legitimate apps. Google has responded by removing malicious apps from the Android Market, and remotely disabling them on infected devices.
Licensing
[
]
The source code for Android is available under free and open source software licenses. Google published their Linux kernel changes under the GNU General Public License (GPL) version 2, and the rest of the code (including network and telephony stacks) under the Apache License version 2.0. Google also keeps the reviewed issues list publicly open for anyone to see and comment. The Open Handset Alliance develops the GPL-licensed part of Android, that is their changes to the Linux kernel, in public, with source code publicly available at all times. The rest of Android is developed in private, with source code released publicly when a major new version is released. Typically Google collaborates with a hardware manufacturer to produce a flagship device featuring the new version of Android, then makes the source code available after that device has been released.
Even though the software is open source, device manufacturers cannot use Google's Android trademark unless Google certifies that the device complies with their Compatibility Definition Document (CDD). Devices must also meet this definition to be eligible to license Google's closed-source applications, including the Android Market. In September 2010, Skyhook Wireless filed a lawsuit against Google in which they alleged that Google had used the compatibility document to block Skyhook's mobile positioning service (XPS) from Motorola's Android mobile devices. In December 2010 a judge denied Skyhook's motion for preliminary injunction, saying that Google had not closed off the possibility of accepting a revised version of Skyhook's XPS service, and that Motorola had terminated their contract with Skyhook because Skyhook wanted to disable Google's location data collection functions on Motorola's devices, which would have violated Motorola's obligations to Google and its carriers.
In early 2011, Google chose to temporarily withhold the Android source code to the tablet-only Honeycomb release, creating doubts over Google's commitment to open source with Android. The reason, according to Andy Rubin in an official Android blog post, was because Honeycomb was rushed for production of the Motorola Xoom, and they did not want third parties creating a "really bad user experience" by attempting to put onto smartphones a version of Android intended for tablets. The source code was made available again in November 2011 with the release of Android 4.0.
While all of Android itself is open-source software, most Android devices ship with a large amount of proprietary software, such as Google Mobile Services, which includes apps such as Google Play Store, Google Search, and Google Play Services—a software layer which provides APIs that integrate with Google-provided services, among others. These apps must be licensed from Google by device makers, and can only be shipped on devices which meet its compatibility guidelines and other requirements. Custom, certified distributions of Android produced by manufacturers (such as TouchWiz and HTC Sense) may also replace certain stock Android apps with their own proprietary variants and add additional software not included in the stock Android operating system.[6] There may also be "binary blob" drivers required for certain hardware components in the device.[6]
Several stock apps in Android's open source code used by previous versions (such as Search, Music, and Calendar) have also been effectively deprecated by Google, with development having shifted to newer but proprietary versions distributed and updated through Play Store, such as Google Search and Google Play Music. While these older apps remain in Android's source code, they have no longer received any major updates.[6] Additionally, proprietary variants of the stock Camera and Gallery apps also include certain functions (such as Photosphere panoramas and Google+ album integration) that are excluded from open source versions (however, they have yet to be completely abandoned). Similarly, the Nexus 5 uses a non-free variation of Android 4.4's home screen that is embedded directly within the Google Search app, adding voice-activated search and the ability to access Google Now as a page on the home screen itself. Although an update for Google Search app containing the relevant components was released through Google Play for all Android devices, the new home screen required an additional stub application to function, and was not provided in Android 4.4 updates for any other devices (which still used the existing home screen from Android version 4.3). The stub application was officially released on Play Store as Google Now Launcher in February 2014, initially for Nexus and Google Play Edition devices with Android version 4.4.[6]
Richard Stallman and the Free Software Foundation have been critical of Android and have recommended the usage of alternatives such as Replicant, because drivers and firmware vital for the proper functioning of Android devices are usually proprietary, and because Google Play can forcibly install or deinstall apps and invites non-free software.
Leverage over manufacturers
[
]
Google Mobile Services software, along with Android trademarks, can only be licensed by hardware manufacturers for devices that meet Google's compatibility standards contained within Android Compatibility Definition Document. Thus, forks of Android that make major changes to the operating system itself do not include any of Google's non-free components, stay incompatible with applications that require them, and must ship with an alternative software marketplace in lieu of Google Play Store.[6] Examples of such Android forks are the Amazon's Fire OS (which is used on the Kindle Fire line of tablets, and oriented toward Amazon services), the Nokia X Software Platform (a fork used by the Nokia X family, oriented primarily toward Nokia and Microsoft services), and other forks that exclude Google apps due to the general unavailability of Google service in that country and licensing fees (such as in China). In 2014, Google also began to require that all Android devices which license the Google Mobile Services software display a prominent "Powered by Android" logo on their boot screens.
Members of the Open Handset Alliance (OHA), which include the majority of Android OEMs, are also contractually forbidden from producing Android devices based on forks of the OS;[6] in 2012, Acer was forced by Google to halt production on a device powered by Alibaba Group's Aliyun OS with threats of removal from the OHA, as Google deemed the platform to be an incompatible version of Android. Alibaba Group defended the allegations, arguing that the OS was a distinct platform from Android (primarily using HTML5 apps), but incorporated portions of Android's platform to allow backwards compatibility with third-party Android software. Indeed, the devices did ship with an application store which offered Android apps; however, the majority of them were pirated.
Android Devices
[
]
The open and customizable nature of the Android operating system allows it to be used on most electronics, including but not limited to: smartphones, laptops, netbooks, tablet computers, Google TV, wristwatches, headphones, Car CD and DVD players and other devices. The main hardware platform for Android is the ARM architecture. There is support for x86 from the Android-x86 project, and Google TV uses a special x86 version of Android.
Phones
[
]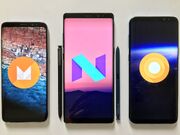 The first commercially available phone to run Android was the HTC Dream, released on 22 October 2008. In early 2010 Google collaborated with HTC to launch its flagship Android device, the Nexus One. This was followed later in 2010 with the Samsung-made Nexus S and in 2011 with the Galaxy Nexus. iOS and Android 2.33 'Gingerbread' may be set up to dual boot on a jailbroken iPhone or iPod Touch with the help of OpeniBoot and iDroid.
Tablets
[
]
Android has be used in tablets since the release of Android 3.0 Honeycomb and the Motorola Xoom.
Other Devices
[
]
The open and customizable nature of Android allows it to be used on other electronics aside from smartphones and tablets, including laptops and netbooks, smartbooks, smart TVs (Android TV, Google TV) and cameras (E.g. Galaxy Camera).[7] In addition, the Android operating system has seen applications on smart glasses (Google Glass), smartwatches, headphones, car CD and DVD players, mirrors, portable media players, landline and Voice over IP phones. Ouya, a video game console running Android, became one of the most successful Kickstarter campaigns, crowdfunding US$8.5m for its development, and was later followed by other Android-based consoles, such as Nvidia's Project Shield – an Android device in a video game controller form factor.
In 2011, Google demonstrated "Android@Home", a home automation technology which uses Android to control a range of household devices including light switches, power sockets and thermostats. Prototype light bulbs were announced that could be controlled from an Android phone or tablet, but Android head Andy Rubin was cautious to note that "turning a lightbulb on and off is nothing new", pointing to numerous failed home automation services. Google, he said, was thinking more ambitiously and the intention was to use their position as a cloud services provider to bring Google products into customers' homes.
Parrot unveiled an Android-based car stereo system known as Asteroid in 2011, followed by a successor, the touchscreen-based Asteroid Smart, in 2012. In 2013, Clarion released its own Android-based car stereo, the AX1. In January 2014 at Consumer Electronics Show, Google announced the formation of the Open Automotive Alliance, a group including several major automobile makers (Audi, General Motors, Hyundai, and Honda) and Nvidia, which aims to produce Android-based in car entertainment systems for automobiles, "bringing the best of Android into the automobile in a safe and seamless way."
On March 18, 2014, Google announced Android Wear, an Android-based platform specifically intended for smartwatches and other wearable devices; only a developer preview was made publicly available. This was followed by the unveiling of two Android Wear–based devices, the LG G Watch and Moto 360.
On June 25, 2014, at Google I/O, it was announced that Android TV, a Smart TV platform, is replacing the previously released Google TV. On June 26, 2014, Google announced Android Auto for the car.
Marketing
[
]
The Android logo was designed along with the Droid font family made by Ascender Corporation. Droid Green is the color of the Android Robot that represents the Android operating system. The print color is PMS 376C and the RGB color value in hexadecimal is #A4C639, as specified by the Android Brand Guidelines. The custom typeface of Android is called Norad (cf. NORAD). It is only used in the text logo.
Versions
[
]
[

]
Data collected during a 14-day period ending on February 4, 2013.
Version Distribution API level %
4.1 - 4.2 Jelly Bean 13.6%
4.0 Ice Cream Sandwich 29%
3.xx Honeycomb 1.3%
2.3x Gingerbread 45.6%
2.2 Froyo 8.1%
2.1 Eclair 2.2%
1.6 Donut 0.2%
1.5 Cupcake 0%[8]
There were two more internal releases, called "Astro" and "Bender". The codenames are in alphabetical order and were allegedly changed from robots to desserts to avoid trademark issues.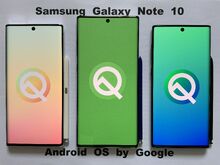 Retail Stores
[
]
The carrier Telstra opened the world's first Android store opened on Bourke Street, Melbourne in December 2011.
Legal issues
[
]
Both Android and Android phone manufacturers have been the target of numerous patent lawsuits.
Oracle
[
]
On 12 August 2010, Oracle sued Google over claimed infringement of copyrights and patents related to the Java programming language. Specifically, the patent infringement claim references seven United States patents including US 5966702 "Method and apparatus for pre-processing and packaging class files", and US 6910205 "Interpreting functions utilizing a hybrid of virtual and native machine instructions". In response, Google submitted multiple lines of defense, counterclaiming that Android did not infringe on Oracle's patents or copyright, that Oracle's patents were invalid, and several other defenses. They said that Android is based on Apache Harmony, a clean room implementation of the Java class libraries, and an independently developed virtual machine called Dalvik. In May 2012, the jury, in this case, found that Google did not infringe on Oracle's patents, and the trial judge ruled that the structure of the Java APIs used by Google was not copyrightable.[9] The parties agreed to zero dollars in statutory damages for a small amount of copied code.[10] On May 9, 2014, the Federal Circuit partially reversed the district court ruling, ruling in Oracle's favor on the copyrightability issue, and remanding the issue of fair use to the district court.[11]
Microsoft
[
]
Microsoft has also sued several manufacturers of Android devices for patent infringement and collects patent licensing fees from others. In October 2011 Microsoft said they had signed license agreements with ten Android device manufacturers, accounting for 55% of worldwide revenue for Android devices. Those include Samsung and HTC.
Apple
[
]
Former Apple Inc. CEO Steve Jobs claimed that Android copied major elements of Apple's iPhone and iOS operating system. According to his biography, Jobs stated that Android is a "stolen product," and vowed to destroy it. "I will spend my last dying breath if I need to, and I will spend every penny of Apple's $40 billion in the bank, to right this wrong," said Jobs.
Google's Response
[
]
Google has publicly expressed its dislike for the current patent landscape in the United States, accusing Apple, Oracle, and Microsoft of trying to take down Android through patent litigation, rather than innovating and competing with better products and services. In August 2011, Google purchased Motorola Mobility for US$12.5 billion, which was viewed in part as a defensive measure to protect Android, since Motorola Mobility has a 17,000-strong patent pool.
References
[
]