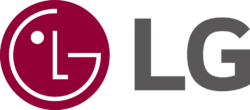 LG, also known as LG Corporation (LG 법인), is a South Korean multinational conglomerate corporation mostly known for manufacturing of smartphones and tablets. It is based in Seoul, South Korea.[1] It makes electronics, chemicals, and telecommunications products and is composed of subsidiaries, including LG Electronics, Zenith, LG Display, LG Telecom, and LG Chem.
LG's Episodes flagship phone is the LG G4.[2]
Episode LG Kids Shows
Edit
Adam's World
Arthur
Aflaa Hands
Angelina Ballerina
Anime
Barney and Friends
Begin Ian
The Berestain Bears
Bob the Builder
Bubble Bobble
Crash Canyon
Clone High
Cats Funny Videos
Caillou
Crayola Markers
Danny Phantom
Doodlebops
Dragon Ball Z
Doodlez
Dora the Expoloer
El Tigre The Adventure of manny rivera
Ed Edd and eddy
EestEnders
Emily Young
Elmo World
Funky Valley
Family Guy
Franklin
Franny Feet
Futz
George Shrinks
Girls Stuff Boy Stuff
Go Diego Go
Grandma Look I Found
Grojband
Handy Manny
Horrid Henry
Happy Tree Friends
Hey Arnold
Home Things
In the Night Garden
It's Isty Bisty Time
Inuk
Incredible Crew
Ice Cube
Johnny Test
Jay Jay the Jet Plane
Jacob Two Two
Jets Adventrues
Jonny Quest
Kenny the Shark
The Koala Brothers
Kamer vs. Kamer
Karate Kid
King of the Hill
Little Bear
Loonatics Unleashed
The Lion King
Let's Go Read
Little Bill
Little People
Lego Nexo Knights
Mona the Vampire
Mucha Lucha
Manon
Misty Mouse
Max and Cat
Moral Orel
Nanook
Numb Chucks
Noah
Ni Hao Kai Lan
Ninja Hood
Oswald
The Oblongs
Otter PBJ
Ozzy and Drix
Posman Pat
Pinky Dinky Doo
Pocoyo
Passions
Police Academy
Robetson School
Ross Titanic Kid
Rick and Morty
Reader Rabbit
Rainbow Fish
Seven Little Monsters
Sesame Street
Spongebob Squarepants
Sultan Muhammed al Fatih
Sabrina's Secret Life
Toopy and Binno
Tamale Loco
Teletubbies
Tin and Zig
The Mole Sisters
The Boy and the King
Transformers
Uncle Grandpa
Unikitty
Undergrads
Untalkative Bunny
Violy Gets Grounded
Voltron Force
Victor and Valentino
Vid Kids
Viva Pinata
Wayside
Wumpa World
The Wiggles
Winx Club
What About Mimi
Xiao Xiao
X-Mega
X-Men Evolution
Xavier Renegade Angle
Yo Gabba Gabba
Yakkity Yak
Yu-Gi-Oh
Young Justice
Young Robin Hood
Zoom
The Zimmer Twins
Zodoomafoo
Zeroman
Episode Other Shows
Edit
4 Straw Guy
3rd and Bird
100 Ways To Die
Wee 3
Threesisters Sunset
The Simpsons
Habil and Qabil
Bits and Bobs
Sisler High School
Aristocats
Clops
Home Cooked HTF
CatDog
Angry Kid
The Boondocks
Timothy Goes To School
Roxaboxen
Tom and Vicky
Pac. Man
Blues Clues
Super Mario Bors
The Wonder Pets
Donald Duck Show
Remi Sans Famille
The Tofus
Zack and Quack
Peter Rabbit
EekoWorld
Gordon Bell High School
Robot Chicken
The Toy Castle
Rupert Bear
Uh Oh
Mischief City
Team Galaxy
Zula Patrol
The Backyardigans
Sunny Funny
Queen of Hearts
Jumping Monkeys
Totally Spies
Lamplight City
Supernanny
Robert Munsch
Global Glover
Ants in Your Pants
Black Knight
Bejeweled
Charlie Brown
References
Edit
↑ "Overview." LG Corp. As of 4 Dec 2014. http://www.lg.com/global/about-lg/corporate-information/at-a-glance/overview.
↑ "LG G3 Review." CNET. As of 4 December 2014. Web. 22 July 2014. http://www.cnet.com/products/lg-g3/.
Community content is available under
CC-BY-SA
unless otherwise noted.