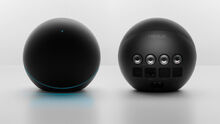 The Nexus Q is the first ever social streaming media player. It was announced at the 2012 Google I/O conference on June 27, 2012. The device is in the form of a black sphere. The top part is able to turn, which controls the volume. A ring circles around the ball, and lights up different colors in time with the music. Google removed the device from the Google Play Store very soon after adding it. It has not yet been added again.
This device allows you to use the Google Play and YouTube apps on your Android device to instantly stream content to the Nexus Q. You can stream movies, songs, YouTube videos and more. The Nexus Q will then play it on the TV. Plus if you turn on the guest mode everyone in your house can choose what to listen to or watch, as long as they have an Android device. If they prefer their own content, however, they are able to simply turn it off.
Community content is available under
CC-BY-SA
unless otherwise noted.