Set-Top Box
Edit
A set-top box (STB) or set-top unit(STU) (one type also colloquially known as a cable box) is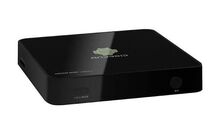 an information appliance device that generally contains a TV-tuner input and displays output to a television setand an external source of signal, turning the source signal into contentin a form that then be displayed on the television screen or other display device. They are used in cable television, satellite television, and over-the-air televisionsystems, as well as other uses.
Features
Edit
Electronic program guide
Edit
Electronic program guides and interactive program guides provide users of television, radio, and other media applications with continuously updated menus displaying broadcast programming or scheduling information for current and upcoming programming. Some guides, such as ITV, also feature backward scrolling to promote their catch-up content.
Favorites
Edit
This feature allows the user to choose preferred channels, making them easier and quicker to access; this is handy with the wide range of digital channels on offer. The concept of favourite channels is superficially similar to that of the "bookmark" function offered in many Web browsers.
The timer allows the user to program and enable the box to switch between channels at certain times: this is handy to record from more than one channel while the user is out. The user still needs to program the VCR or DVD recorder.
Scart link recording
Edit
The user having selected the required TV programs on the electronic program guide at the appropriate time, the box sends a control signal via the Scart link telling a compatible VCR or DVR to start or stop recording. This means the user has only to program the set-top box and it will switch to the right channel at the right time and "wake up" the VCR or DVR to record, so there is no need for a timer.
Convenience features
Edit
Controls on the box
Edit
Some models have controls on the box, as well as on the remote control. This is useful should the user lose the remote or if the batteries age.
Remote controls that work with other TVs
Edit
Some remote controls can also control some basic functions of various brands of TVs. This allows the user to use just one remote to turn the TV on and off, adjust volume, or switch between digital and analog TV channels or between terrestrial and internet channels.
Parental locks
Edit
The parental lock or content filters allow users over 18 years old to block access to channels that are not appropriate for children, using a personal identification number. Some boxes simply block all channels, while others allow the user to restrict access to chosen channels not suitable for children below certain ages.
Software alternatives
Edit
As complexity and potential programming faults of the set-top box increase, software such as MythTV, Select-TV and Microsoft's Media Center have developed features comparable to those of set-top boxes, ranging from basic DVR-like functionality to DVD copying, home automation, and housewide music or video playback.
Community content is available under
CC-BY-SA
unless otherwise noted.