A smart TV, sometimes referred to as connected TV or hybrid TV, is a television set with integrated Internet and interactive "Web 2.0" features. Smart TV is a technological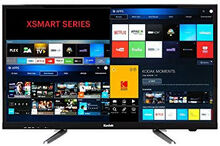 convergence between computers and flatscreen television sets and set-top boxes. Besides the traditional functions of television sets and set-top boxes provided through traditional broadcasting media, these devices can also provide Internet TV, online interactive media, over-the-top content (OTT), as well as on-demand streaming media, and home networking access.
Smart TV should not be confused with Internet TV, IPTV, or Web television. Internet TV refers to receiving television content over the Internet instead of traditional systems (terrestrial, cable and satellite) (although Internet itself is received by these methods). IPTV is one of the Internet television technology standards for use by television broadcasters. Web television is a term used for programs created by a wide variety of companies and individuals for broadcast on Internet TV.
In smart TVs, the operating system is preloaded or is available through the set-top box. The software applications or "apps" can be preloaded into the device, or updated or installed on demand via an app store or marketplace, in a similar manner to how the apps are integrated into modern smartphones.
The technology that enables smart TVs is also incorporated in external devices such as set-top boxes and some Blu-ray players, game consoles, digital media players, hotel television systems, smartphones, and other network-connected interactive devices that utilize television-type display outputs. These devices allow viewers to find and play videos, movies, TV shows, photos, and other content from the Web, cable or satellite TV channel, or from a local storage device.
Community content is available under
CC-BY-SA
unless otherwise noted.